A more detailed guide to cigarette filters. Gathered information about what kinds of filters there are, which ones are better and how to figure out which filter is in your cigarettes.
We remind you that you can choose cigarettes with any filter to your taste on our website. Visit the catalog and buy cigarettes from the manufacturer on CigsSpot.
What is a filter in a cigarette and what role it plays
The cigarette filter is an important element of modern cigarettes, usually shaped like a cylinder and consisting of acetate fiber and other filtering elements (e.g., carbon fiber).
The filter in a cigarette performs several tasks. First, it captures large particles from the smoke and prevents them from entering the smoker's body. Secondly, the filter creates a fairly long layer between the tobacco cigarette and the smoker's hands/lips. This allows you to finish the cigarette without fear of burning your fingers or lips. Also, smoking filtered cigarettes feels more hygienic than filterless cigarettes.
The first cigarette filters were created and patented in 1925 by Hungarian inventor Boris Ayvazh. At that time, they were sold separately from cigarettes and had to be inserted manually (similar to modern self-twist kits). By the way, the first cigarette filters were made of crepe paper. In the 50s, production equipment appeared that allowed combining the tobacco part and the filter into a single cigarette. In the same period, filters in cigarettes began to be seen as a way to slightly reduce the damage from smoking by filtering out some of the harmful products of combustion. Crepe paper was not up to the task, and so the first acetate-cellulose filters were introduced.
Types of filters in cigarettes
Cigarette filters can vary in size, construction, material, and degree of purification.
Types of cigarette filters by size (according to the size of cigarettes):.
8 mm – Standard
6 mm – Slim
4.5 mm – Super Slim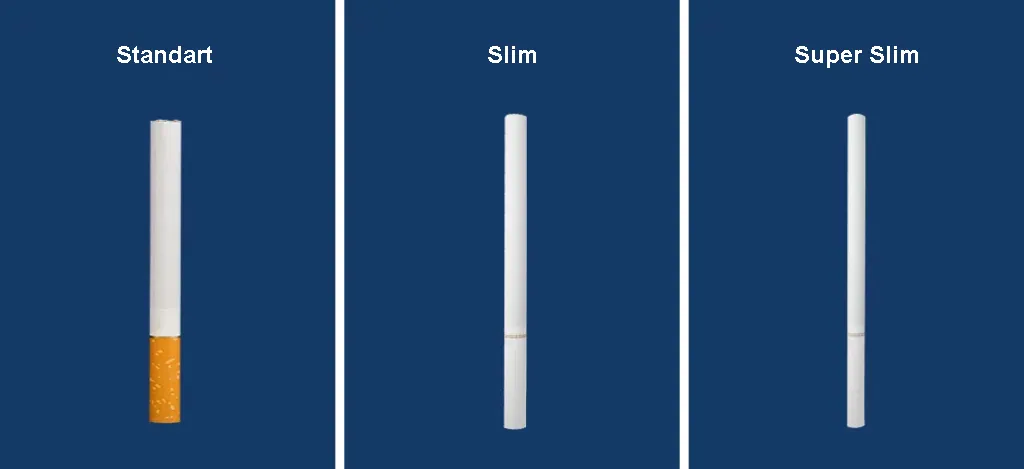 Types of cigarette filters by construction, material used to make the filter and degree of purification:
Conventional acetate filter. These are the simplest filters made of acetate cellulose. It can be said to be a classic among filters. Some cigarette brands use advanced versions of acetate filters with a thicker construction or paper soak protection.
Dual Filter. These are filters with two levels of purification. Usually consist of a traditional acetate part and an additional layer of acetate fiber with charcoal attachments. The presence of the additional layer provides a better degree of purification.
Triple filter. These are considered to be the next generation of filters. In their design, an air chamber is added to the acetate and charcoal sections. Thanks to the air chamber, the smoke is additionally saturated with air, softening and balancing the flavor.
A flavor capsule is also embedded inside the button cigarette filter.
How can I tell what kind of filter my cigarettes have?
Usually, information about the type of filter is indicated on the cigarette package with special infographic labeling, as in the examples below:
Bond Street with Recessed Plus Filter (triple filter made of acetate part, carbon interlayer and air chamber)
L&M Loft Night Blue with Premium Recessed Filter (triple filter made of acetate part, carbon interlayer and air chamber with thickened paper shell).
Marlboro Red with Firm Filter (acetate filter with elastic construction).
Philip Morris with Nova filter (the latest generation of three-level filters with capsule)
Cigarette filters: environmental impact
One of the important global problems associated with cigarettes is the negative environmental impact of filters. On average, in the natural environment, a cigarette filter takes about 10 years to decompose. Assuming that one smoker smokes a pack of cigarettes a day, we get 20 cigarette butts in the trash every day and 600 cigarette butts every month.
Both cigarette manufacturers and researchers and engineers around the world are actively working to develop eco-friendly biodegradable cigarette filters. This is no easy task, as such filters must meet several criteria at the same time:
to be eco-frendly,
to fulfill the filter's main task – to clean the smoke,
be easily reproducible in mass production,
have a cost price that will keep them affordable to consumers.
Fully biodegradable cigarettes are also gaining popularity – where not only cigarette butts, but the empty packet would decompose. The first product of this type was developed by a South African company, Woodland Craft. Instead of tissue paper it is unbleached paper, the filter is made of wood pulp. The pack itself is made from recycled and biodegradable paper, even the ink used to print on the pack is made from soy.